27.11.2019
With décor inspired by mid-century design, The Vintage Hotel is a beautifully composed sanctuary in the heart of Portugal's capital city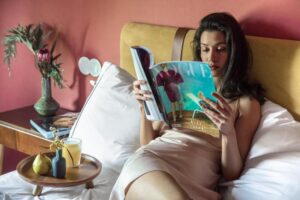 Very often, made-for-Instagram hotels fail beyond the influencer's carefully curated vignettes. This is where The Vintage stands apart from all competition. Made for refined living and with a carefully considered approach to interpreting designs from a revered generation of architects and industrial designers, this Bomporto Hotels property encapsulates a lifestyle.
A stylish 5 star boutique hotel that is perfectly situated at the heart of one of Lisbon's most popular and fashionable neighbourhoods, The Vintage offers guests an opportunity to curate their own experience all under one roof. The different colour palettes in each room have been carefully curated to bring each space a different atmosphere and allow guests to be inspired, relax or play as the mood takes them.
With a timeless environment that's defined by quality, an authentic soul and attention to the smallest details, the property showcases some of the best of Portugal's artwork, artisan products and contemporary cultural heritage. Everything from the Portuguese-inspired cuisine, created with locally-sourced ingredients and interpreted in a fresh and modern way, to the local beverages that deliver a true taste of Portugal.
All of the 56 rooms – and three suites – feature stunning views of the city, the sea or the mountains with Portugal's iconic architectural wonders dotting the skyline.
Inside, the unique look and feel of each room marries sleek modernity with bespoke furnishings to create spaces that are at once uplifting, practical and bold. All bedrooms contain a one-off genuinely vintage bar cart —The Vintage Hotel's very own unique and unusual signature concept.
Delivering authentic 'happening experiences' that tap into local music, style and fashion, The Vintage regularly plays host to desirable destination events that get visitors talking. From outdoor 'cinema nights' on the rooftop terrace, to guest DJ's sharing their favourite music tracks on a bespoke vintage record player by the open fireplace in the downstairs spacious lobby, the inviting heart and soul of this landmark Lisbon hotel is difficult to resist.
The top-to-toe refurbishment of The Vintage was curated and directed by local creative director and designer — Daniela Francheschini of Quiet Studio. Paying homage to the past, and looking forward to the future, The Vintage marries stylish retro with local artisan connections to locate the hotel firmly in the present. And it does so without being a pastiche of the past or a cliché of design codes assembled together.
What it achieves, both in terms of the delivery of the concept, as well as delivery of service is quite masterful. A treasure trove of design gems: from a bold portrait of a Portuguese Fadista (a female fado singer), commissioned especially from the Portuguese artist Margarita Fleming and wall mural produced by the art consultancy Omey Projects, to mid-century favourites from Kai Kristiansen, Erik Buch, Poul Cadovius, Johannes Andersen and Arne Vodder, to name but a few stand proud against the hotels' bold colours.
Not content with just being a stylish place to meet or lay your head? The Vintage houses a fabulous subterranean spa where guests can relax and enjoy world-class treatments and massages – including signature treatments such as The Vintage Ritual, the personalised facial, or a timely Jet Lag massage. Staffed by the best therapists in town, the spa's specular décor and welcoming colour palette is designed to nurture both body and mind. Visitors can indulge themselves in the tranquility water lounge or lie back and experience an energising Vichy Shower massage.
What's even better? The friendly staff at the welcome desk. From the best Fado in town, to which of the historic trams to avoid and everything in between – they know their city inside out and are always happy to make last minute reservations for the hottest restaurants and theatres. Seriously, they are that well connected!